Mirrored porthole made from brass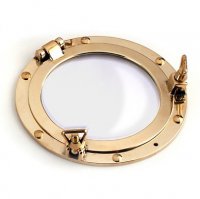 Product description:
Porthole mirror made from high-gloss polished brass as decorative element in your rooms. The actual mirror is built into a brass frame that can be easily opened. It can be hung on the wall with a wall hook or a screw by its drill hole. It is just as simple to fixate the porthole mirror on the wall by removing the sockets in the frame and inserting screws in the holes. Create a maritime room atmosphere with a mirrored porthole of our online shop. All mirrors are produces in Europe and are available with the following outer diameters. Please find the exact measurements in the table below.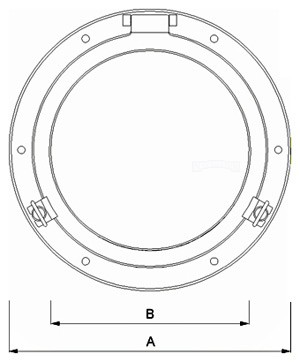 A: Outer diameter
B: Mirror diameter
Choice between mirror, clear and frosted glass
Optionally, we can provide you with portholes made with mirror, clear or frosted glass. Learn more about the differences between the types of glass.
Shipping costs
Denmark (12.00 EUR)
Italy (15.00 EUR)
Luxembourg (12.00 EUR)
Netherlands (12.00 EUR)
Poland (15.00 EUR)
Portugal (15.00 EUR)
Spain (15.00 EUR)
Sweden (15.00 EUR)
Switzerland (29.75 EUR)
---
Methods of payment
Prepayment via bank transfer
Paypal
Credit card
---
Available in different designs