Chrome plated mirrored portholes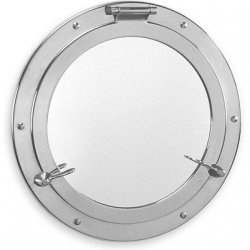 Chrome plated porthole mirrors for maritime interior design. The mirrored portholes are made from brass and subsequently high-gloss chrome plated. A chrome plated porthole mirror adds a decent maritime highlight to any room are wall. The mirror glass is build into the chrome plated brass frame that can be opened and closed. The porthole mirror can be hung on the wall by its drill hole with a hook or screw. Alternatively, one can remove the sockets in the frame of the porthole and simply fixate the mirrored porthole on the wall with screws. Create a maritime room atmosphere with a chrome plated porthole mirror of our online shop. The mirrors are manufactured in Europe and available in the following diameters:
---
Other customers looked for:
bathroom mirror porthole chrome 20"
chrome 25" porthole mirror
chrome portholes
chrome porthole mirrors
bathroom portholes