Chrome plated porthole made from brass for installation (large)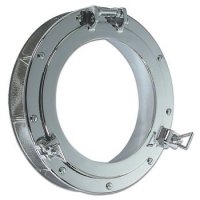 Product description:
Solid chrome plated porthole with installation frame, made in Europe. This chrome plated porthole is perfect for installing it in doors and walls and is delivered with installation frame and counter ring for mounting. Choose one out of three sizes, ranging from 27 to 47 centimetres. Please find the detailed information in the accompanying table. The installation depths vary. The porthole can be built into walls or doors that are 2 to 5 centimetres thick immediately; whilst surfaces thicker than must be additionally covered with a metal strip of other material. As a matter of course, we will answer all your questions concerning this product and its installation process. Please don't hesitate to contact us via phone or email with the according concoct form. The porthole can be opened by undoing the two wing screws. This series of chrome plated portholes is one of our online shop's bestsellers and is a popular accessory for maritime decoration in commercially or privately used buildings. Private customers often use these portholes a decoration in bathrooms or kitchens, for example as a cap for storage boxes and laundry baskets. In the gastronomy business, portholes are often maritime elements in partition walls. Another interesting use for these chrome plated portholes of our online assortment is the installation in exhibition rooms. The following editions of chrome plated portholes are available: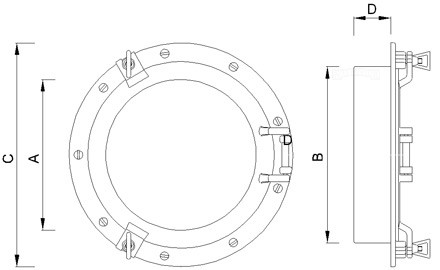 A: Glass diameter
B: Installation diameter
C: Outer diameter
D: Installation depth
Choice between normal, plastic and frosted glass
Optionally, we can provide you with portholes made with normal, plastic or frosted glass. Learn more about the differences between the types of glass.
Shipping costs
Denmark (12.00 EUR)
Italy (15.00 EUR)
Luxembourg (12.00 EUR)
Netherlands (12.00 EUR)
Poland (15.00 EUR)
Portugal (15.00 EUR)
Spain (15.00 EUR)
Sweden (15.00 EUR)
Switzerland (29.75 EUR)
---
Methods of payment
Prepayment via bank transfer
Paypal
Credit card
---
Available in different designs

Edition with 26 cm diameter
| Surface area | Dimension |
| --- | --- |
| A: Glass diameter | 168 mm |
| B: Installation diameter | 195 mm |
| C: Outer diameter | 264 mm |
| D: Installation depth | 50 mm |

Shipping weight: 4.00 Kg
Ready for dispatch within 24h
238.00 EUR
(excl. VAT: 200.0000 EUR)
---

Edition with 30 cm diameter
| Surface area | Dimension |
| --- | --- |
| A: Glass diameter | 200 mm |
| B: Installation diameter | 235 mm |
| C: Outer diameter | 300 mm |
| D: Installation depth | 50 mm |

Shipping weight: 6.00 Kg
Ready for dispatch within 24h
288.00 EUR
(excl. VAT: 242.0168 EUR)
---

Edition with 47 cm diameter
| Surface area | Dimension |
| --- | --- |
| A: Glass diameter | 350 mm |
| B: Installation diameter | 385 mm |
| C: Outer diameter | 470 mm |
| D: Installation depth | 47 mm |

Shipping weight: 11.00 Kg
Ready for dispatch within 24h
495.00 EUR
(excl. VAT: 415.9664 EUR)