Build-in porthole made from brass (small)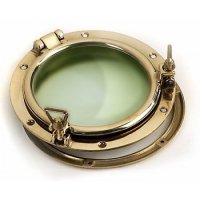 Product description:
Small porthole for installation, made from polished brass with counter ring. This porthole is perfect for building it into doors and walls and is delivered in a full package with counter ring for immediate installation. There are three sizes at choice. The installation depths vary. These build-in portholes can be installed into walls or doors of approximately 10mm immediately, while walls thicker than 10mm should be covered with an additional metal frame. Find the exact installation measurements in the following sketch. We would be pleased to provide you with further information about the installation process on the phone. The porthole can be opened by undoing the wing screw. This porthole series is one of the shop's bestsellers and is often used as a piece of marine decoration in privately of commercially used buildings. This product is manufactured in Europe. The following brass portholes are ready for delivery:
A: Glass diameter
B: Installation diameter
C: Outer diameter
D: Installation depth
Choice between normal, plastic and frosted glass
Optionally, we can provide you with portholes made with normal, plastic or frosted glass. Learn more about the differences between the types of glass.
Shipping costs
Denmark (12.00 EUR)
Italy (15.00 EUR)
Luxembourg (12.00 EUR)
Netherlands (12.00 EUR)
Poland (15.00 EUR)
Portugal (15.00 EUR)
Spain (15.00 EUR)
Sweden (15.00 EUR)
Switzerland (29.75 EUR)
---
Methods of payment
Prepayment via bank transfer
Paypal
Credit card
---
Available in different designs

Edition with 15 cm diameter
| Surface area | Dimension |
| --- | --- |
| A: Glass diameter | 100 mm |
| B: Installation diameter | 125 mm |
| C: Outer diameter | 153 mm |
| D: Installation depth | 12 mm |

Shipping weight: 2.00 Kg
Ready for dispatch within 24h
115.00 EUR
(excl. VAT: 96.6387 EUR)
---

Edition with 18 cm diameter
| Surface area | Dimension |
| --- | --- |
| A: Glass diameter | 125 mm |
| B: Installation diameter | 152 mm |
| C: Outer diameter | 182 mm |
| D: Installation depth | 12 mm |

Shipping weight: 2.00 Kg
Ready for dispatch within 24h
128.00 EUR
(excl. VAT: 107.5630 EUR)
---

Edition with 21 cm diameter
| Surface area | Dimension |
| --- | --- |
| A: Glass diameter | 150 mm |
| B: Installation diameter | 175 mm |
| C: Outer diameter | 207 mm |
| D: Installation depth | 12 mm |

Shipping weight: 3.00 Kg
Ready for dispatch within 24h
149.00 EUR
(excl. VAT: 125.2101 EUR)