Ship window made from brass, size 55 x 55 cm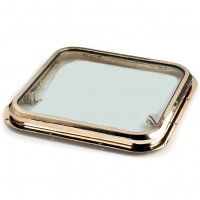 Product description:
Square ship window made from brass, suitable also for installation as skylight. The frame must be screwed to a solid surface and can be covered on the inside. The window can be locked into place when opened and tightly shut with the two lever seals on the inside. The rubber gasket sealed the window windproof. This ship window is made from solid brass and is equipped with drill holes in the installation frame. this product is manufactured in Europe. The size of 55 x 55 centimetres is the outer measurement of the frame. Further details can be found in the following table.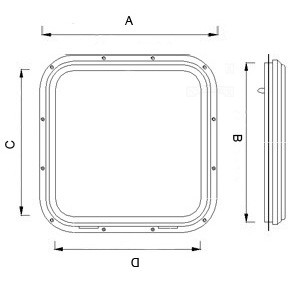 | Surface area | Dimension |
| --- | --- |
| A: Overall dimension | 550 x 550 mm |
| B: Insert dimension | 498 x 498 mm |
| C: Opening dimension | 490 x 490 mm |
| D: Glass dimension | 455 x 455 mm |

Ready for dispatch within 24h
595.00 EUR
(excl. VAT: 500.00 EUR)
Shipping weight: 12.00 Kg
---
Shipping costs
Denmark (35.70 EUR)
Italy (38.08 EUR)
Luxembourg (35.70 EUR)
Netherlands (35.70 EUR)
Poland (38.08 EUR)
Portugal (38.08 EUR)
Spain (38.08 EUR)
Sweden (38.08 EUR)
Switzerland (67.97 EUR)
---
Methods of payment
Prepayment via bank transfer
Paypal
Credit card
---
Porthole-Shop.com Article number: #
2386