Chrome plated ship window made from brass, size 20 x 36 cm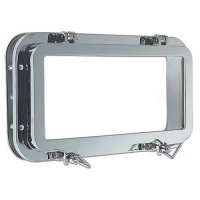 Product description:
Chrome plated rectangular ship window to build into walls and doors. The ship window is delivered with a chrome plated installation frame, that suits walls of up to 27mm thickness. If you would like to build this window into a thicker wall or doors, we recommend you to use additional covering in the cut-out. The chrome plated brass window can be opened and tightly shut with the wing nuts. This ship window is manufactured in Europe. Please find the exact measurements in the following table.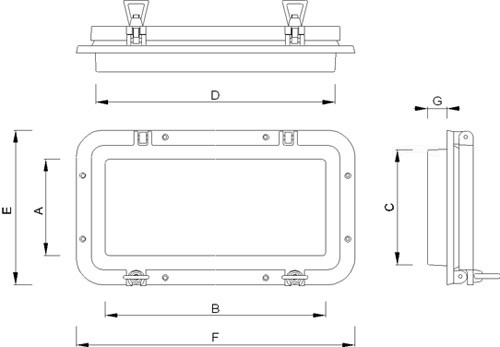 | Surface area | Dimension |
| --- | --- |
| A: Height of glass | 125 mm |
| B: Width of glass | 285 mm |
| C: Installation height | 152 mm |
| D: Installation width | 310 mm |
| E: Outer height | 200 mm |
| F: Outer width | 360 mm |
| G: Installation depth | 27 mm |

Delivery time of 2-4 weeks
388.00 EUR
(excl. VAT: 326.05 EUR)
Shipping weight: 6.00 Kg
---
Shipping costs
Denmark (21.42 EUR)
Italy (26.18 EUR)
Luxembourg (21.42 EUR)
Netherlands (21.42 EUR)
Poland (26.18 EUR)
Portugal (26.18 EUR)
Spain (26.18 EUR)
Sweden (26.18 EUR)
Switzerland (49.56 EUR)
---
Methods of payment
Prepayment via bank transfer
Paypal
Credit card
---
Porthole-Shop.com Article number: #
2384CR