Chrome plated, oval porthole made from brass (edition 4), size 19 x 42 cm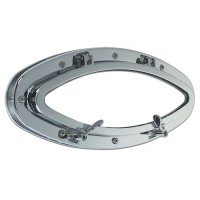 Product description:
This chrome plated porthole in our online shop stands out with its extraordinary shape. Built into a wall or door, it creates a maritime flair, whether at home or aboard a ship. This porthole can be opened and closed by its two bars. The installation frame of the oval porthole if delivered with matching screws. It is manufactured in Europe. Please find the installation measurements in the accompanying table.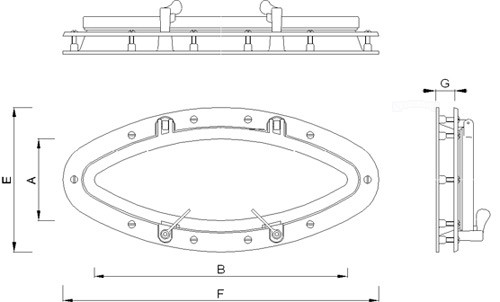 | Surface area | Dimension |
| --- | --- |
| A: Height of glass | 107 mm |
| B: Width of glass | 340 mm |
| E: Outer height | 190 mm |
| F: Outer width | 423 mm |
| G: Installation depth | 15-25 mm |

Ready for dispatch within 24h
198.00 EUR
(excl. VAT: 166.39 EUR)
Shipping weight: 3.00 Kg
---
Shipping costs
Denmark (12.00 EUR)
Italy (15.00 EUR)
Luxembourg (12.00 EUR)
Netherlands (12.00 EUR)
Poland (15.00 EUR)
Portugal (15.00 EUR)
Spain (15.00 EUR)
Sweden (15.00 EUR)
Switzerland (29.75 EUR)
---
Methods of payment
Prepayment via bank transfer
Paypal
Credit card
---
Porthole-Shop.com Article number: #
2381CR